When Irish Eyes are Smiling
Everyone is Irish on St. Patrick's Day! So put on your green and head out to these Dorchester businesses! Check back as this list will be updated!
St. Patrick's Celebration at Dorchester Brewing Co.
Celebrate St. Patrick's Day as the Irish intended -with a full day of drinking great beer at Dorchester Brewing Co. on Saturday, March 11th.  There will be a Special Dry Irish Stout collab release on nitro, Green Gold! (Would it be a St. Patrick's party if there wasn't some green beer?), Theme DOTtails and slushies to bring the fun to all types of drinkers. Enjoy live music with The Savin Hillbillies playing a set upstairs on the roof deck from 1-4pm and Jimmy Foley closes it out, playing from 7-10pm.  For full details visit here. 
Live Irish Session at Lower Mills Tavern
Listen to the music! Enjoy live Irish music Friday night at the Lower Mills Tavern. Irish Session takes place from 7:30pm-9:30pm. No cover. Musicians welcome. Kitchen is open late!
Wood School of Irish Dance in the Neighborhood

Landmark Public House
LPH is getting in the spirit! Enjoy corned beef + cabbage Tuesday – Sunday.  Irish Steppers on Friday at 5pm and Sunday at 3pm. Live Music on Friday 8:30pm-1:30am and Sunday at 4pm.
St. Patrick's Day Family Fun Day at Florian Hall
Local 718 is hosting a day-long St. Patrick's Day celebration on Saturday, March 18th 12pm-6pm.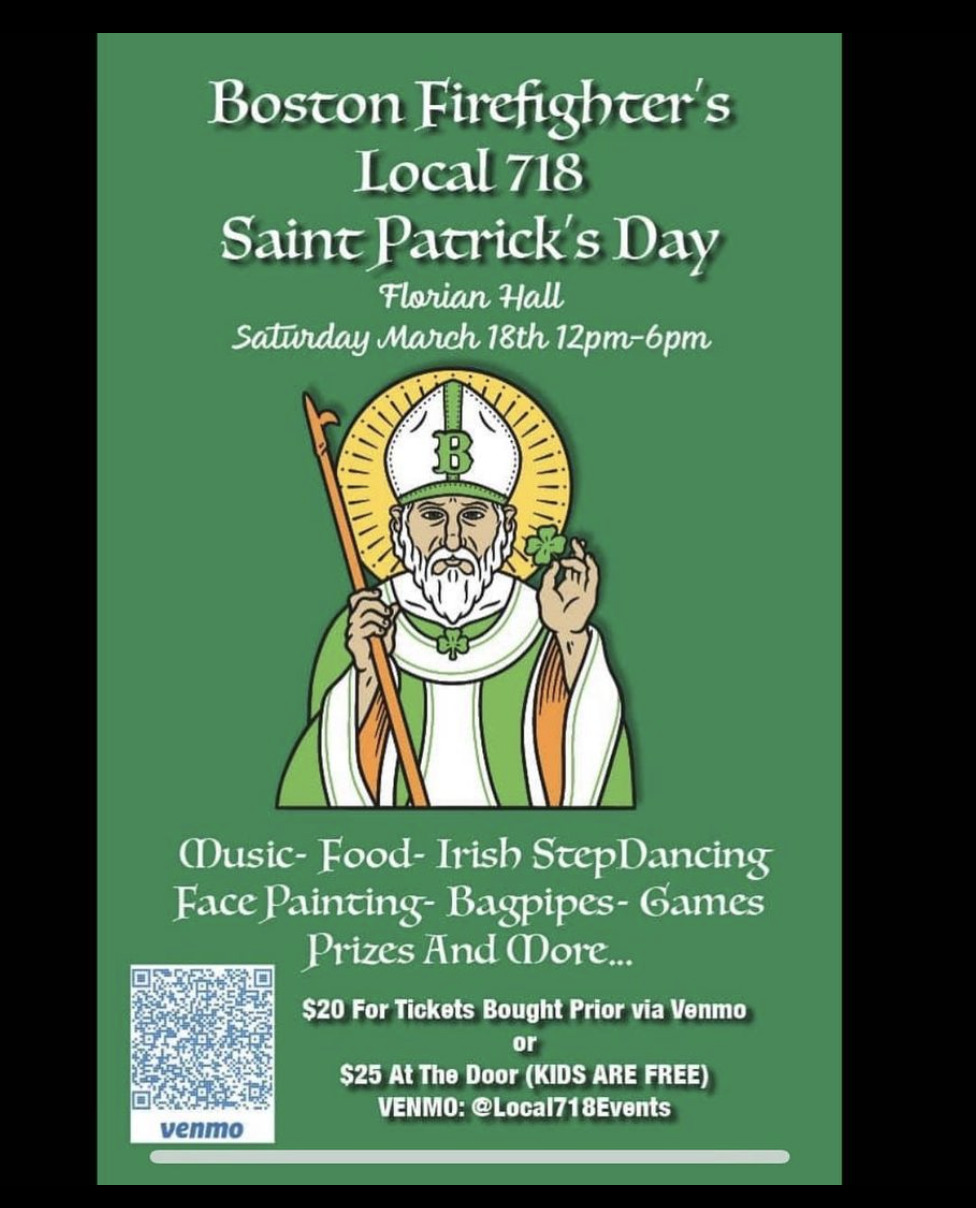 Corned Beef + Cabbage
A time-honored tradition! The Eire Pub will be serving up corned beef and cabbage all day long. Pairs perfectly with Guinness.
Live Music – St Patrick's Day with Jimmy Ryan and Friends & The Bob Bradshaw Band
Post Parade party at Dot Tavern
On Sunday at 4pm head to Dot Tavern for a post-parade party!  The beer will be flowing and sausages via the Sausage Guy will be grilling! Special guests Tommy Gaurino and Proscuitto Papi! Live music followed by a DJ.
DIY Shamrock Cookies from Top Shelf
Top Shelf has the perfect season DIY project you can eat! Includes either 6 or 12 Shamrock Shaped Sugar Cookies Green, Orange & White Frosting Green, Orange & White Decorating Sugars Green, Orange & White Sprinkles.  You can place your order here for pick up or delivery! 
Get yourself a Sweet Bite Box from Sweet Life Bakery
These delicious boxes include: 5 Macarons (color dependent on the holiday or season), 2 Plain Brownie Bites, 2 Apricot Linzers, 6 Assorted Tea Cookies (2 Strawberry Pecan, 2 Lemon Raspberry, 2 Chocolate Sea Salt) 2 Chocolate dipped Caramel Turtles, and 2 decorated Sugar Cookies (design dependent on holiday or season, as well!) *no additions or changes* They are now  taking orders for our St. Patrick's Day Box "Pot O' Sugar!" Within that box, the Macarons will be Green and Gold, and the the Sugar Cookies will be an Irish theme! Adding to our excitement.. Sweet Life have decided to do an ONLINE ORDERING system for these boxes! There will be no payment online. All payment can either be card or cash at the Barista counter when you come to pick up your box!
Babe Mannion's Irish Shoppe
A new Irish Imports and hometown pride shop is now open in Adams Village. Babe Mannion's Irish Shoppe is located at 786 Adams Street (near corner of Gallivan Blvd.) and sells everything from traditional scally caps to specialty gift items.
Greenhills Bakery
Greenhills is Dorchester's very own hub for all things Irish! Stop in for scones, soda bread, Shepherd's pie, Irish Cream iced coffee and more! Including an assortment of pantry items straight from across the pond.
Here's a roundup of celebrations happening in South Boston via our sister site Caught in Southie! 
Maureen Dahill is the editor of Caught in Southie and a lifelong resident of South Boston sometimes mistaken for a yuppie. Co-host of Caught Up, storyteller, lover of red wine and binge watching TV series. Mrs. Peter G. Follow her @MaureenCaught.