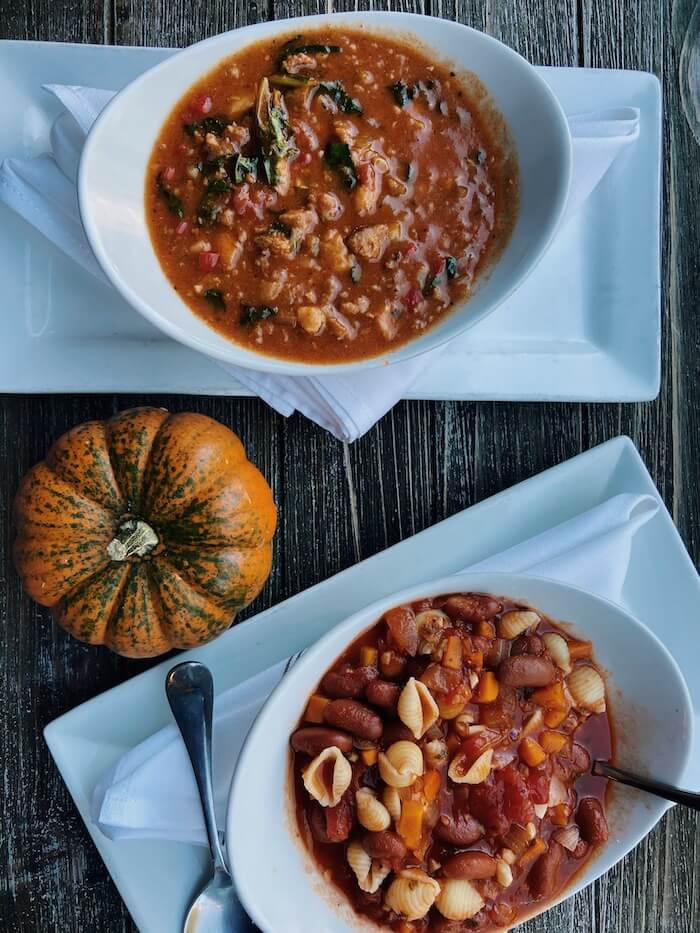 As the temperature starts to drop, the leaves begin to fall and the days start getting shorter, we all start to crave warm hearty dishes. Here's a round up of some of our favorite soups and stews that are sure to warm you right up as it starts getting colder! 
Sweater Weather Gumbo at Lower Mills Tavern
Andouille sausage, harvest greens, and creole veggies. This gumbo is hearty and filling, perfect for those chillier temps!  You can learn more here. 
Loaded Baked Potato Soup at Ashmont Grill
A warm baked potato….in soup form served with bacon, cheddar, and scallions. We all love comfort food this time of year, so this soup really hits the spot!  You can learn more here! 
Pho Ga at Pho Hoa
Traditional Vietnamese "chicken noodle soup" with onions, scallions and cilantro – served alongside bean sprouts, basil, lime and jalapeno pepper. There's really nothing like warming up with a bowl of steaming "chicken noodle soup!" This is definitely a favorite. See full menu here! 
Pumpkin Bisque at 244 Boston
Creamy, decadent pumpkin bisque with creéme fraiche and toasted pepitas. Nothing really says "fall" like pumpkin! We're crazy about this seasonal dish at 224! 
Spicy Paitan at Totto Ramen
Chicken Paitan topped with house made spicy sesame oil, scallions, bean sprouts, nori and *char siu. *Choice of pork or chicken.Sometimes you need a little spice to warm you from the inside out, this spicy ramen from Totto Ramen is just the thing!